Online Booking:
How do I enable the book.app Mini-Site and Booking Bot?
To enable the book.app mini site in your account go to the Online Booking > book.app page: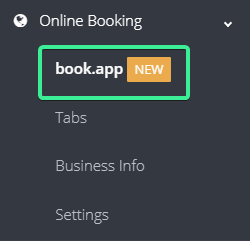 Or click on the setup button at the top of the page:


Create your domain name. This will be your mini site web address. E.g. 'funki.book.app'. Enter your chosen domain name (e.g. enter "funki", do not enter "book.app") and click Check availability:


If that domain name has already been taken, you will be prompted to re-select

Please note that once you have set your domain name it can't be changed
If your chosen domain name is available, click Confirm
Select a theme from the options available: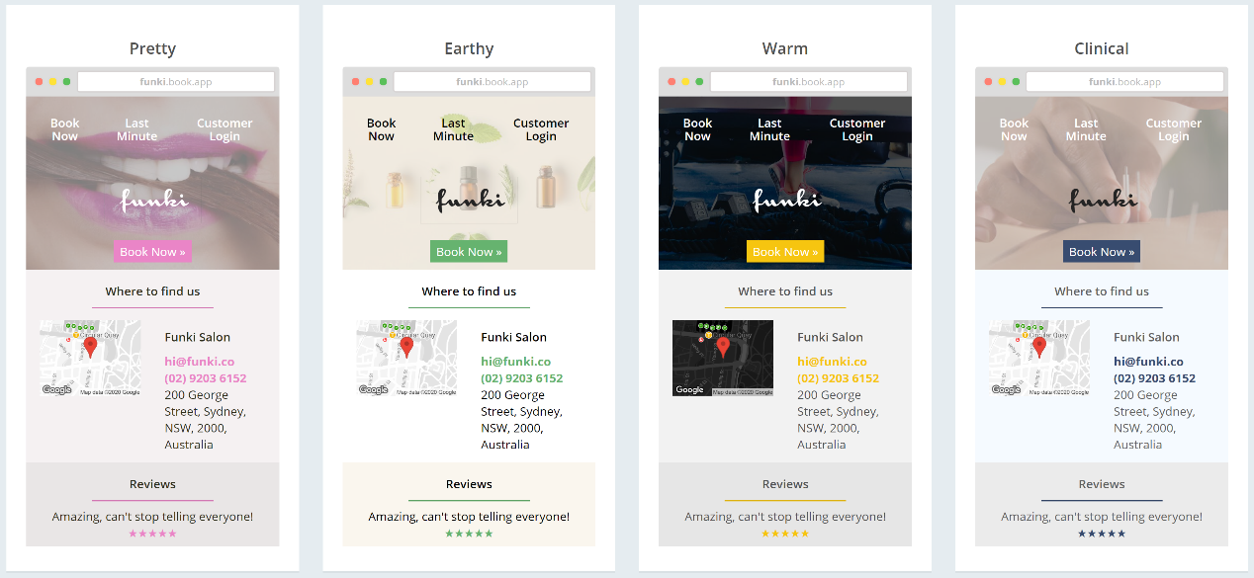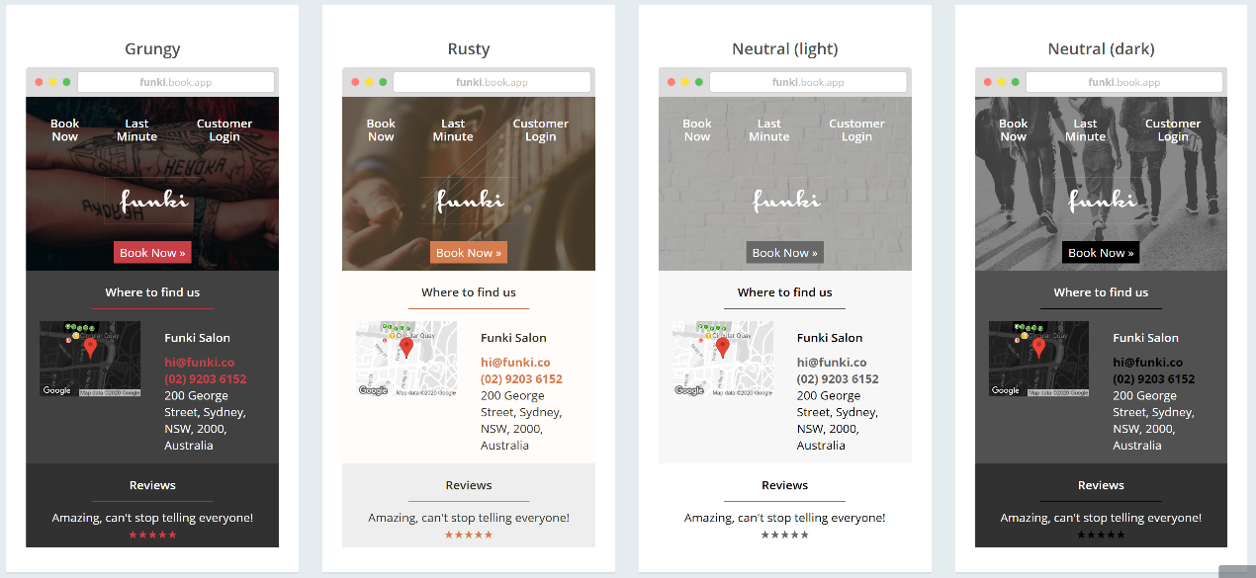 The theme and colours you select will also apply to your website Booking Bot

CUSTOMISING YOUR SITE:
1. Upload your business logo and icon
Click on the Online Logo Image Select File... button to upload your logo, which appears at the top of your mini-site and in your email templates
Click on the Online Icon Image Select File... button to upload your icon, which appears in the web browser tab for your mini-site, and as the computer desktop shortcut icon and mobile device icon when saved as a shortcut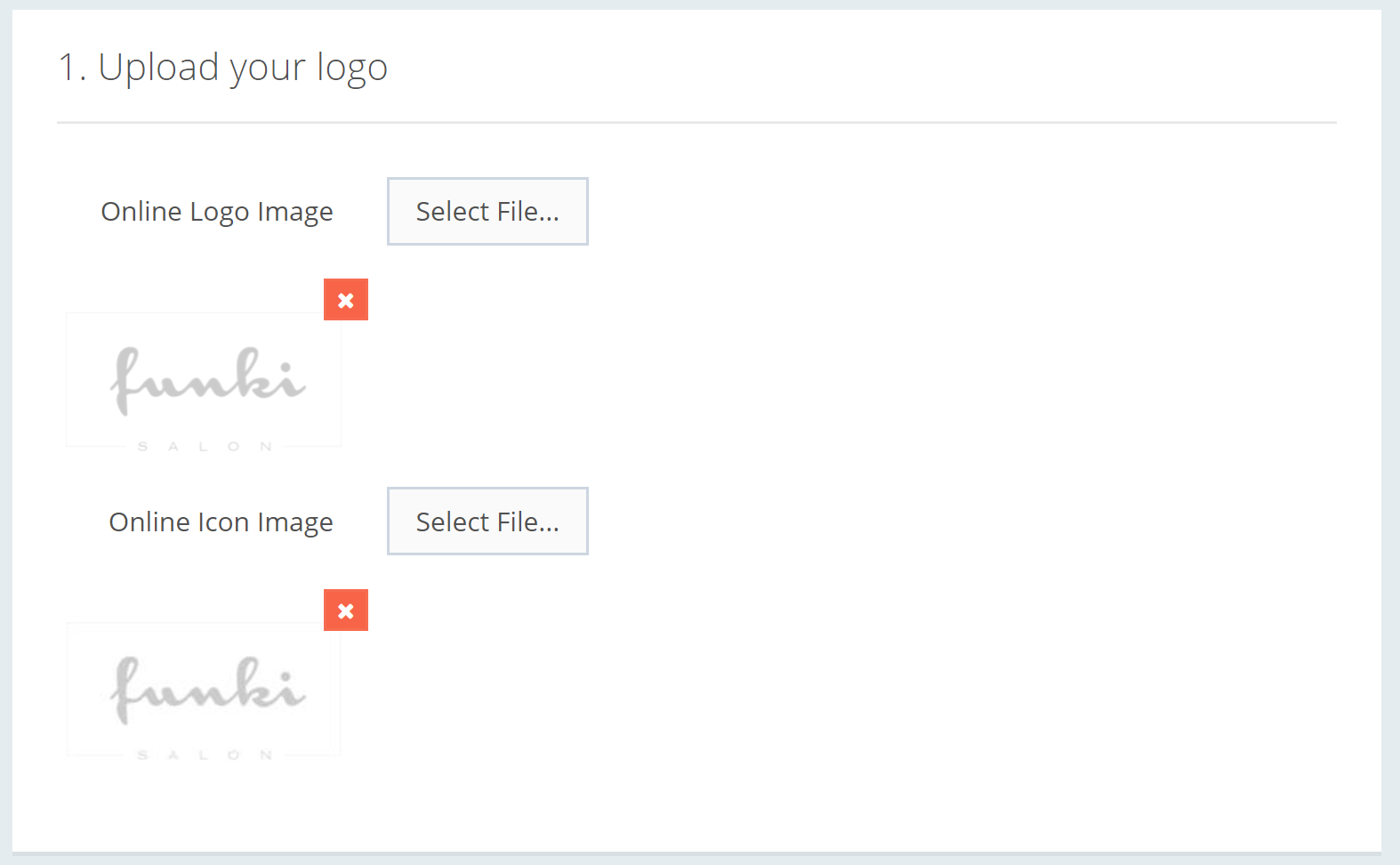 2. Set your header background hero image
This is the background image that shows at the top of your mini site. You can either use your own image by clicking the Online Hero Image Select File... button, or click through the tabs and select from the provided options:
3. Select your action colours
These will be preset with the colour codes related to your chosen theme, however feel free to edit them. You can change these colours by clicking inside the field and using the colour-picker, or by entering hex colour codes.
The Action Colour field relates to the colour of buttons, clickable text and other page highlights
The Action Text Colour field sets the colour of the text within buttons

Click Save
As you edit these sections the preview on the right of the page will update to show the change:
4. Email Settings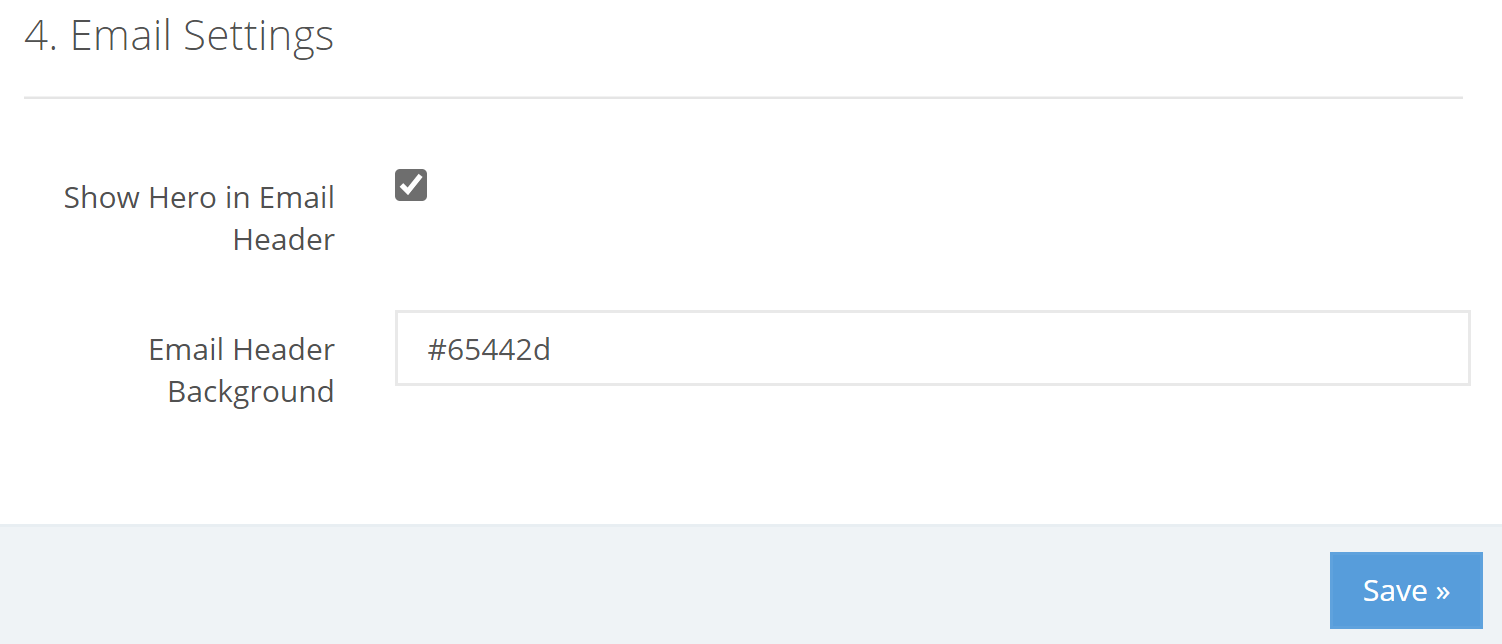 Field
Description
Show Hero in Email Header
Select this checkbox if you'd like the hero image at the top of your mini-site to also show at the top of your customer emails

Deselect this checkbox to not show the hero image. In this scenario the colour selected below will show as the email background header
Email Header Background
When the above checkbox is deselected the colour chosen in this colour picker will show as the background colour (behind your logo if you've uploaded one) at the top of the email template
Please Note: To ensure your book.app theme is added to your emails please;
Go to the the Notifications > Email Settings page
If the green Override button is showing for your Master Email Template, no further action is required, as the new template is automatically applied
If the red Revert button is showing for your Master Email Template, click on that Revert button. Once the page has reloaded click on the green Override button that appears for that template. This will then show the Edit, Disable and Revert buttons as before. The system will then apply the book.app theme into your template and also keep the other changes you've made to this template.
Once these settings have been saved you can return to the book.app page any time and edit them;

Click Online Booking > book.app > Visit your mini-site to open your mini-site in a new browser tab
Click Online Booking . book.app > Change theme to view your theme and select a new one
Click Online Booking > book.app > Customise Site to customise your mini-site
See How do I customise my book.app mini-site? for more information on editing your mini-site after setup

Ready to take the next step in scaling your business?
Here's a 60 Day FREE Trial. No Credit Card. Just Business Growth Made Simple.
Ready?
Get Started
Still have questions? Chat to one of our friendly Customer Success experts.
They're available around the clock and will answer any questions you have. Click here to chat.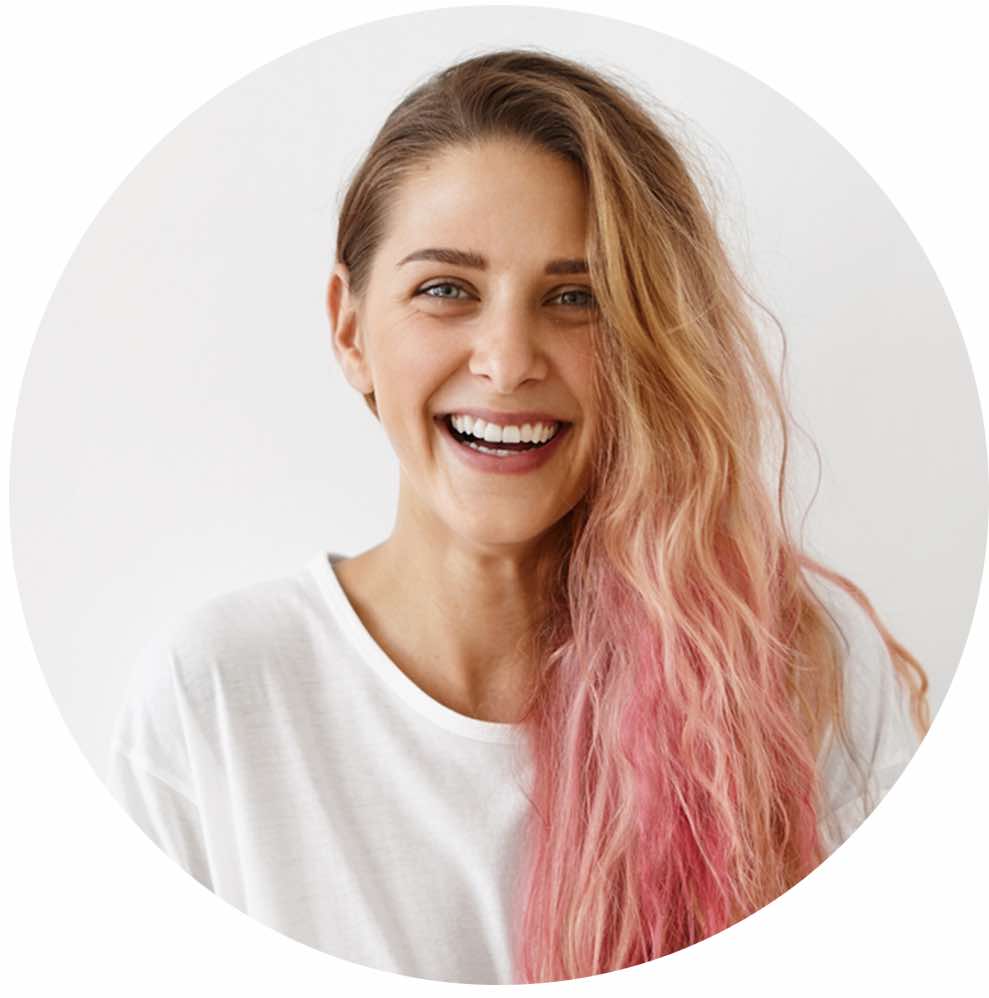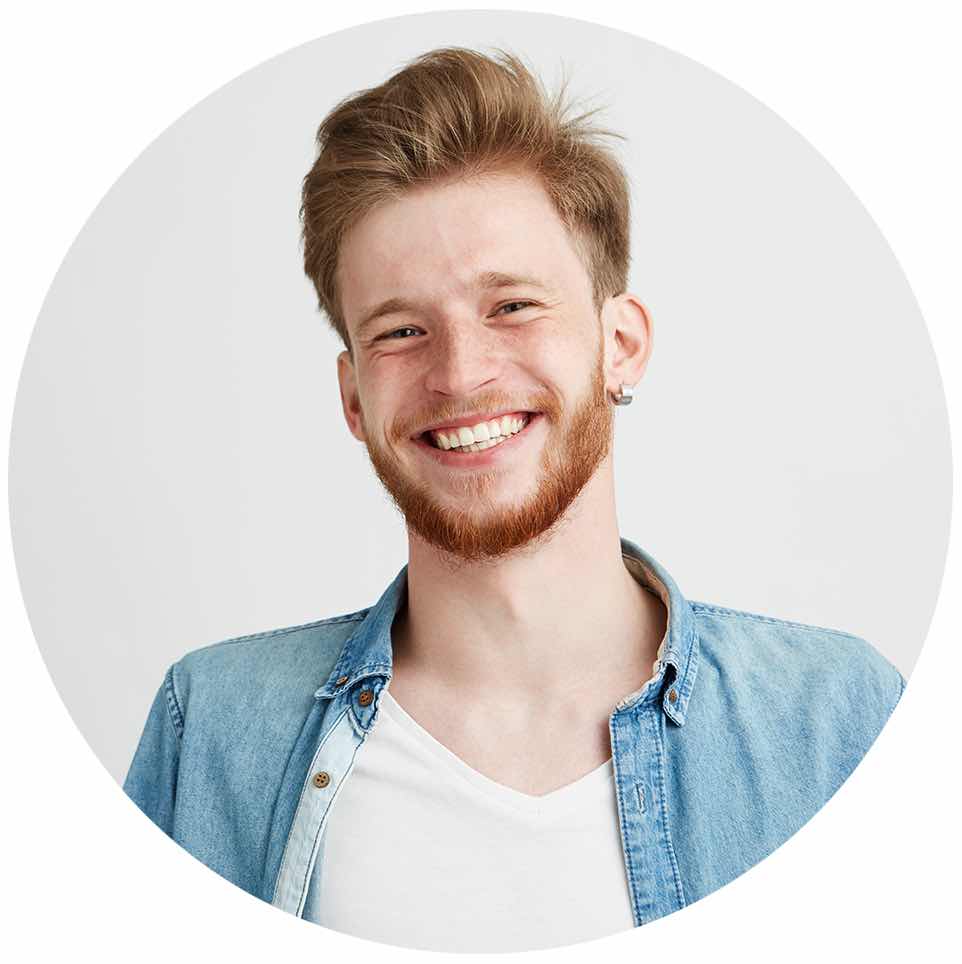 Ready to bring your business online with Ovatu?
Sign up to try Ovatu FREE for 30 days! No credit card required. No commitment necessary.
or call (628) 500-7735